Thai Cooking School in Bangkok
Take your taste buds on an exciting journey through the fantastic flavours and experiences of Thailand!
Right in the heart of Bangkok City, Go! Thai Cooking School is nestled in Bangrak's oldest fresh market, right next to the Shangri-La hotel. Our talented chefs have excellent English skills to help explain every detail of each dish so you can understand the ingredients and the roles they play in creating the final taste explosions!
Our menus change every day so if your first experience was one to remember you can return for more bursting flavours the following day and learn new dishes and cooking styles that you can carry with you for a lifetime.
But don't worry if you forget how to cook a dish because we at Go! Thai Cooking will provide each booking with a follow-up email, containing all the menus of the day along with some great photos of your experiences!
Book to cook now +66 84 335 4078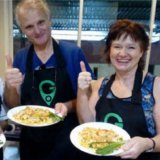 Amazing experience, delicious food!
My boyfriend and I took an evening cooking course through the 'Go!' Thai Cooking School and we absolutely loved it!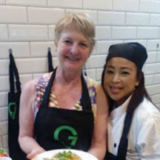 Fantastic Day
It was a very enjoyable morning with 'Go!' thai cooking school. If you are looking for an authentic cooking school with perfect chef, right in bangkok's oldest market look no further.
Not to be missed! Fantastic!
This is an experience not to be missed! I cannot speck highly enough of chef Kim. She has such a great personality, and is so passionate about cooking.