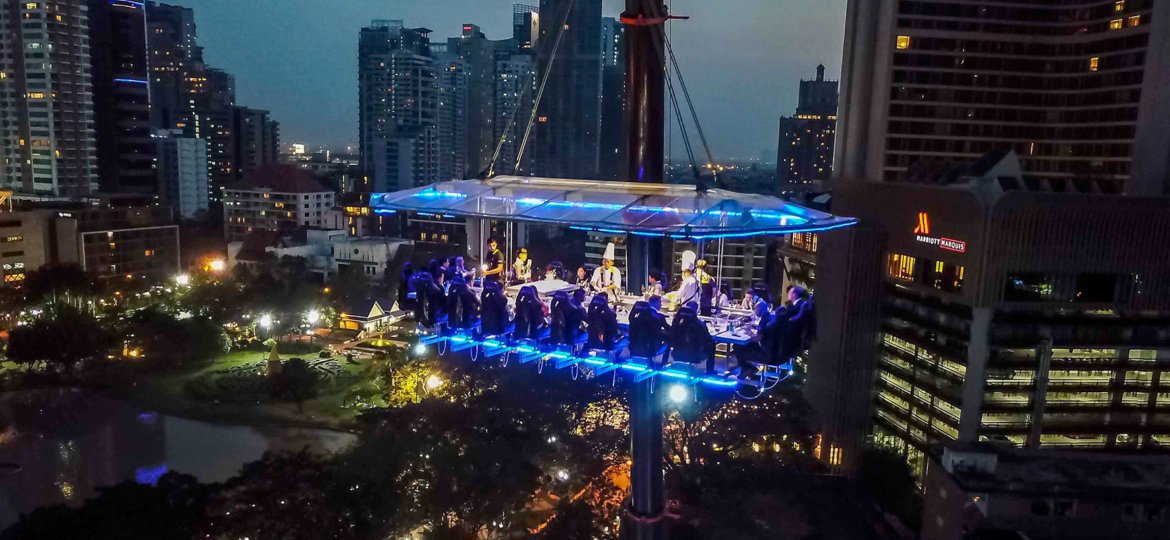 Dinner in the Sky is coming to Bangkok.
Dinner in the Sky, a Belgian success story, has events in over 45 countries worldwide. Finally they have added Bangkok, Thailand to its list starting officially on Dec 20th, 2017.
Having hosted Monarchs, Top Chefs and Top executives from around the world you too can now enjoy an hour of 4 course dining experience under the stars in the sky.
Safety in the Sky is highly regarded therefore all concepts are designed according to the German norm DIN 4112. Their products are built in Belgium under the control of the German TÜV.
Due to obsession with safety it is one of the reasons why Dinner in the Sky is now operating in well over 45 countries worldwide and has gained official authorization from the toughest and strictest countries around, including France, Canada, Australia and Israel.
Apart from Dining in the Sky they also offer other sky related events such as:
Santa in the Sky
Marriage in the Sky
Corporate Events etc etc
Bangkok's launch will be with the concept that works all over the world but am sure they will ad other products to the line soonest.
With launch date set @Dec 20, weekday dinners are priced at B4,990/person and weekend dinners at B5,390. The meal is an hour long, with two dining sessions per evening: "Sunset" at 6pm and "City Lights" at 7:30pm. Tickets can be purchased starting now.
Available menu:
Dinner in the Sky
4 courses set dinner menu
Appetizer
angus beef carpaccio with healthy salad, lemon dressing and parmesan cheese foam
Soup
tomato gazpacho chili soup, crabmeat and cucumber
Main course
pan fried butterfish, saffron potatoes, asparagus, cherry tomato and beetroot reduction
or
braised Australian short ribs beef with BBQ sauce, roasted vegetable
or
roasted new Zealand lamb loin with hazelnut, baby turnip and purple potatoes puree'
Dessert
passion fruit mascarpone cream cheese cake, raspberry coulis and green tea ice cream
The Q&A raises some interesting questions but even more so equal interesting answers:
Q: Toilet facilities:
A: Ask your waiter and they will lover the whole table. A procedure that takes about 2 minutes each way.
Q: Weather issue's
A: On offer: Weather risk insurance which is 10 % of your global budget + 15 % insurance fee. This has to be confirmed regarding the location and the time of the year.
NOTE for US customers
For our US customers we have an extra US$ 10 millions liability insurance policy in place which can be used for US$ 5.500/event day.
For bookings: CLICK HERE
Location within Bangkok:
Emsphere
546 Sukhumvit Rd, Khwaeng Khlong Tan,
Khet Khlong Toei,
Krung Thep Maha Nakhon 10110